Enterprise Information Management
Leverage data and content to digitally transform and build a resilient business. Information Management organizes, integrates and protects data and content as it flows through business processes across and outside the organization. With Information Management, organizations can simply and securely capture, govern and exchange information to use it to its full potential.
Business Value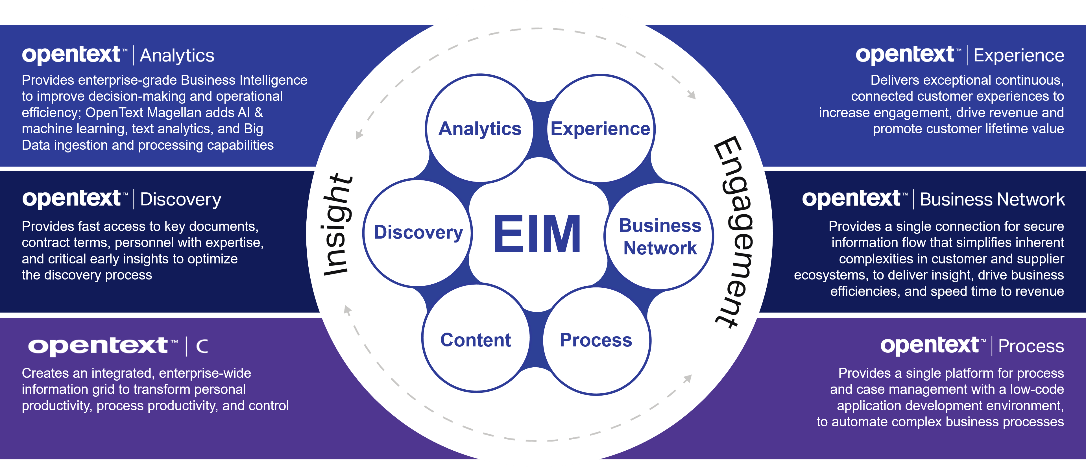 Industry Solutions for EIM



Enterprise Content Management (ECM).
OpenText Enterprise Content Management manages the lifecycle, distribution and use of information across the organization, from capture through to archiving and disposition.
OpenText Content Services are the next generation of enterprise content management tool enhancing the availability and value of information across the enterprise.
From ECM to Extended ECM


Content Services Platform
Integrate content services with lead applications, such as SAP S/4HANA, SAP SuccessFactors, Salesforce, Microsoft office 365 or any other process-driving software, to bridge content silos, expedite information flows and expand governance.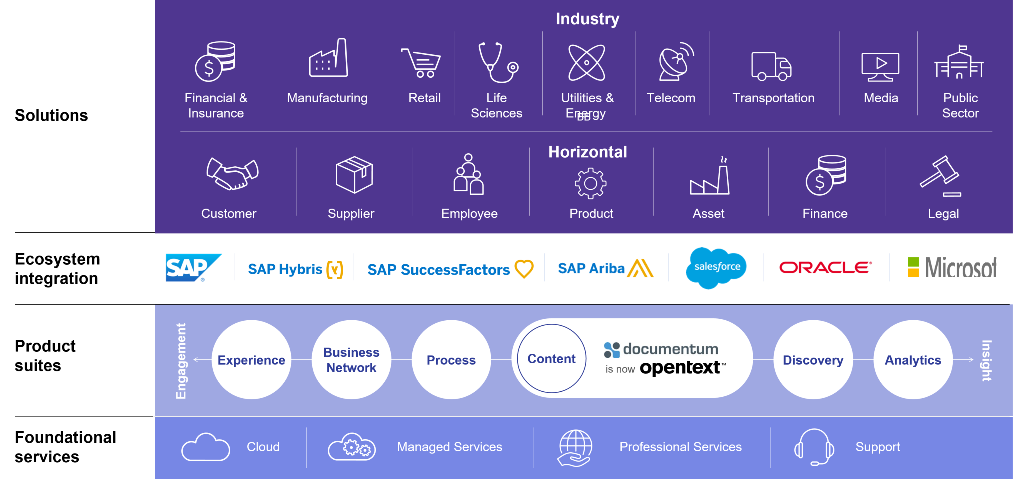 Content Suite Cloud Editions
Upgrade to Content Suite Cloud Edition to take advantage of new features and performance improvements hat will maximize the value of your investments in OpenText technology.
Ready to upgrade your content Suite CS to Cloud Edition CE 21.1 - CE 21.2?

"Search query results" widget which an be used to show any set of results ranging from a list of workspaces, related workspaces, a list of documents from workspaces, etc

Map Security clearance levels to Azure information protection integration sensitivity labels



Multi-File viewing - quickly open multiple document by manual selection of each in individual file, or by selection of a container

Accessible user interface in OpenText viewing meets WCAG 2.1 requirements.

Event Action Center new start Web Report action from a lead app, on the content itself, or with options available in other apps such as Microsoft Power Automate, SAP SuccessFactors, SAP S/4HANA, etc.


Related Business Workspaces configurations can now be syndicated to Remote Sites.